Walking tours, restaurant and shop recommendations, and side trips. The ultimate guide from a Portland, Oregon native.
I have a few weekends in my hometown of Portland, Oregon, coming up this month, and I feel refreshed and relaxed just thinking about it. There's something different about that Pacific Northwest air and green space that does it to me, every time. I've been meaning to share my favorite spots with you in the form of a Portland To Do List for a long time, and I get asked for my favorite spots again by a friend – so here we are!
Portland still feels like a small city to me, but every time I return, I am amazed at what new spots have cropped up for the people flocking there. I recommend renting a car to see the city fully, though public transportation has made it easier to get around without one – especially if you're sticking to the city itself and not venturing out.
Enjoy!
Forest Park + Northwest 23rd: Morning Walking Tour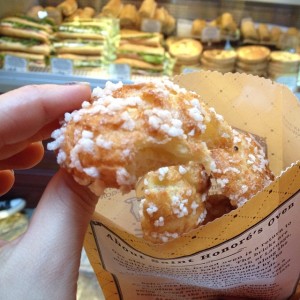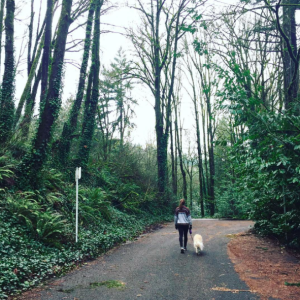 Forest Park: Spend the night at the Inn at Northrup Station, a boutique hotel right off 21st Street. Then, this To Do list with my favorite place of all time – a mile or two walk up + back on Lief Erickkson Drive in Forest Park, at the end of NW Thurman Street. Grab a coffee on your way in at St Honoré Bakery (chouquette pastry pictured above) or Dragonfly Coffee House, and go by foot for a quick mile into the park. It's a wonderful way to see Portland's lush greenery from a easily accessible, flat trail. If you're more adventurous, make it a morning hike or rent a bike to cruise the trail further. Alternatively, if they're in bloom, head up to the International Rose Test Gardens or Hoyt Arboretum.
NW 23rd Street: This is an iconic shopping district. Start out around NW Lovejoy & 23rd at Blue Star Donuts, made with brioche dough. Stop into The Meadow for unique chocolate + salt gifts, Sloan Boutique for upscale trendy clothing, Ipnosi Clothing for dresses + jewelry, Tender Loving Empire for gadgets + oddities, and end at Pizzacato for a casual slice of my favorite Puttanesca pizza for lunch or Elephants Deli for my favorite bowl of Tomato Orange Soup (see my version here!). As you meander back to your car, don't miss Moonstruck local chocolates or Salt & Straw ice cream to cure your sweet tooth.
Southeast Portland + Mount Tabor: Daylong Walking Tour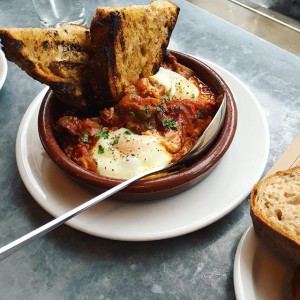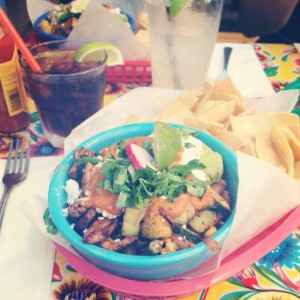 North Williams: Start with my favorite brunch spot for a foodie crowd, Tasty n Sons, and don't miss the shakshuka (pictured above). They also have incredible potato doughnuts and creative comforting breakfast dishes. Get a bunch to share!
Southeast Division: Continue with an Indian street-food inspired lunch at Bollywood Theater, skip to pie at Lauretta Jean's, or just do coffee + pastry at Roman Candle Baking Co. Meander into a few shops – I like Adorn for clothing and jewelry and Bridge City Mercantile for gifts.
Southeast Burnside: Pop over onto Burnside and head into House of Vintage, a fun place to meander and find relics from decades past. Check out the Portland Cider House taproom or McMenamins Baghdad Theater Pub for an afternoon thirst quencher. Check out local boutique stores, like Asylum, or Powell's on Hawthorne if you don't make it to the downtown store.
Mount Tabor: On your way to Mount Tabor Park, an extinct volcano and outdoor space in the middle of the city, stop into New Seasons Market Hawthorne and grab some fruit, cheese, and crackers, along with local Pacific Northwest treats. It's a Portland-owned grocery store that one-ups Whole Foods in my opinion. Walk up into Mount Tabor Park for views of the city and the open reservoir. Enjoy your snacks in the grass or a picnic table. End the night with a casual dinner at Por Qué No, a local favorite (I recommend the Brian's Bowl, pictured above, and agua fresca).
Downtown Portland + The Pearl District: Daylong Walking Tour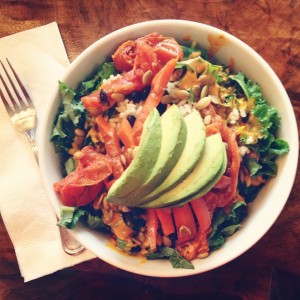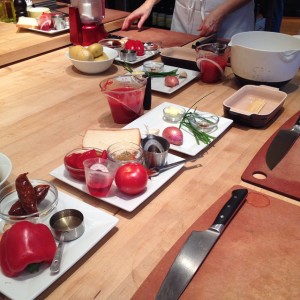 Downtown: Spend the night at the Ace Hotel, a hotel in a historic landmark. If you're in for a walk, start your day at Heart Coffee or Stumptown Coffee and walk with coffee in hand along the Waterfront Trail from the Burnside Bridge to the Hawthorne Bridge and back. On Saturdays, this will bring you right next to the Portland Saturday Market, a collection of food, clothing, and artisan vendors that have been around for over 40 years. Alternatively, just walk south on the waterfront and then head over to the Portland Farmers Market next to Portland State for breakfast from a farm-fresh vendor (open seasonally). End by weaving back through town on the MAX train to spend an hour browsing books at Powell's Books until lunchtime.
The Pearl: After leaving Powells, be sure to stop by MadeHere PDX for local gifts and beautiful wares. When you get hungry for lunch, head over to Prasad for a veggie-heavy, flavor packed bowl (pictured above). Walk north on 10th Avenue, checking out the Ecotrust Building on the way. Enjoy the outdoor space at Jamison Square and pop into Lovejoy Bakers to sip on coffee or a homemade treat. Head back to your hotel to relax before dinner at Verde Cocina, a laid-back Mexican spot, or Andina, an upscale Peruvian restaurant. You can also check out local cooking classes – I love the ones at Sur La Table that include a meal (pictured above). Check to see if any shows are playing at the Crystal Ballroom or movies at the Living Room Theaters before calling it a night.
Day Trips outside of Portland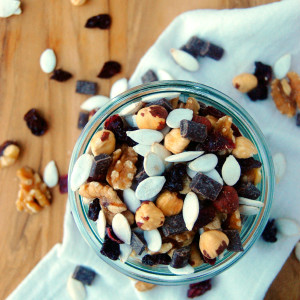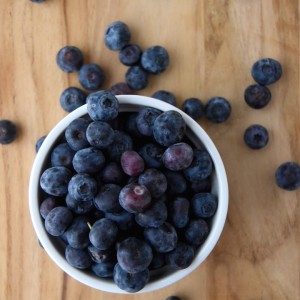 Multnomah Falls + Hood River: There's nothing more iconic than Multnomah Falls, along the historic Columbia River Highway (US 30). You can stop for a quick photo or do the hike up to the top, or hike in between here and Wahkeena Falls. Continue on to Hood River to spend the day hiking (bring some trail mix!), heading just over the border into Washington for wine tasting, or enjoying the slower pace. Read more in the NY Times 36 Hours in Hood River post.
Sauvie Island: If it's summertime or fall, don't skip a morning or afternoon trip to Sauvie Island. It's along the Columbia River just west of Portland, and is predominantly farmland and a wildlife refuge. It's the place to go berry picking, kayaking, biking, or sunbathing along the public beaches (including one clothing-optional – beware!). Be sure to grab a parking permit for beachside parking.
Cannon Beach: Cannon Beach and the adjoining beach towns are the typical Portland weekend beach destination, because it takes under 2 hours to get there (tip: there is now an Amtrak train from Union Station). It still has a small town feel, and events like a sand castle building contest and festivals. Be sure to walk along the beach to Haystack Rock, grab chowder at Ecola Seafoods Restaurant, and enjoy the salty air with a book – and a sweatshirt.
I'd love to hear what you've enjoyed most if you've traveled to Portland – share below in the comments!
Marisa