This simple Spring Lentil and Wild Rice Salad is a hearty and balanced grain salad perfect for warm evenings and packing up for lunches. With fresh green veggies, hearty lentils, and a simple dressing, it's a wonderful staple you can turn to with springtime produce.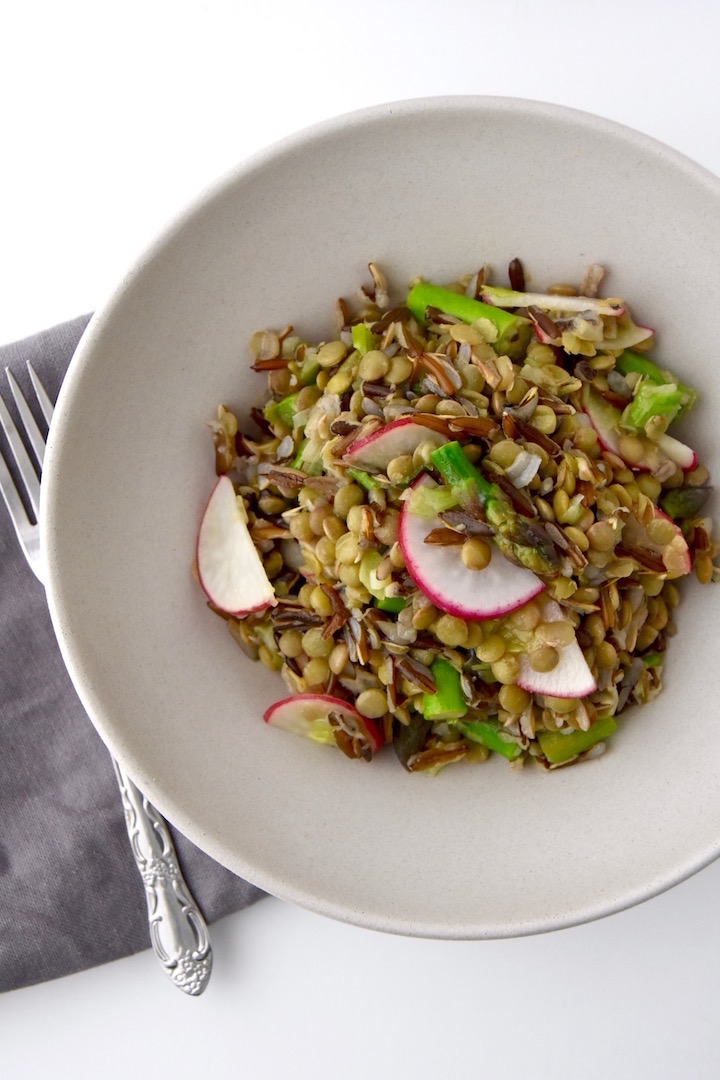 Disclaimer: This post is sponsored by USA Pulses + Pulse Canada. I was compensated for my time, and all opinions are my own.
The sunshine is back. I know I can't be the only one who seems to fall off the planet a little more during winter, even though I love the winter season and its cozy soups, books and warm clothes. It almost feels surreal that we've gotten so far through 2017 so far – during a recent trip to the grocery store, I was overwhelmed by the sudden overflow of fresh asparagus, radishes, strawberries and more.
I knew I had to get my hands on some fresh asparagus for a simple green lentil and wild rice salad I was dreaming of. With some fresh produce and a generous amount of lemon juice, olive oil, and salt, this dish is a winner for packing in lunches for the week or bringing to a weekend picnic or lunch with friends. It's a shareable size and can be eaten on its own, or I love pairing it with some cheese, crackers and a green salad.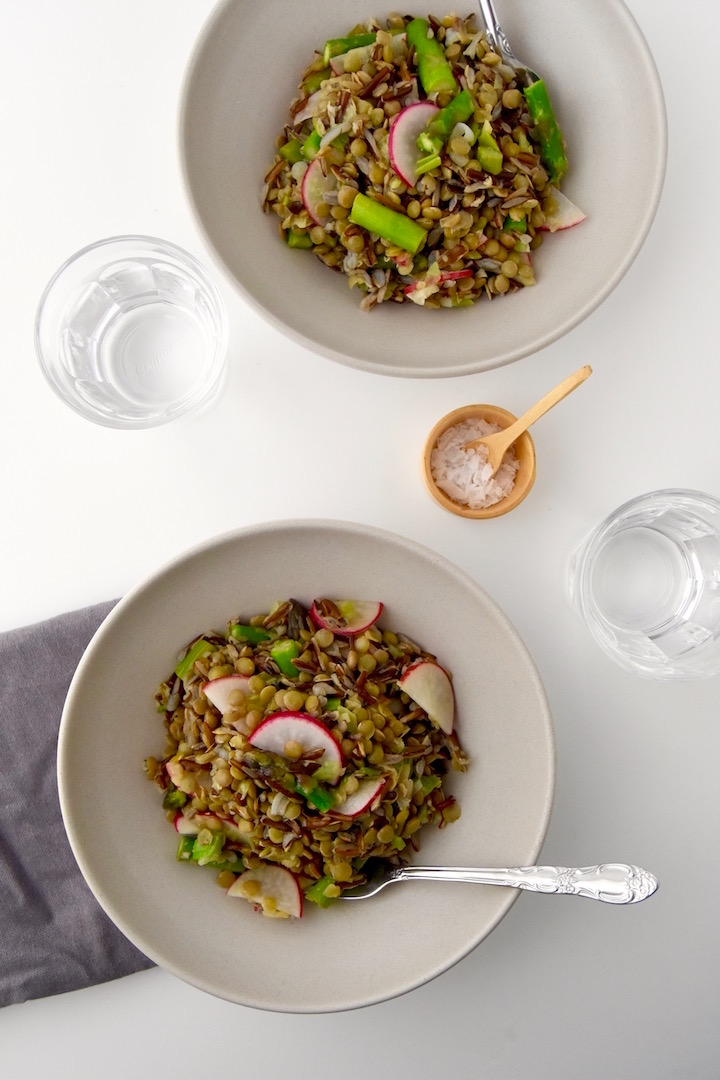 Today's recipe is in partnership with Pulses. Pulses are known as dry peas, lentils, chickpeas and beans, and are a staple in my pantry. You all might remember my Mexican Stuffed Butternut Squash recipe I shared in partnership with them last year. Not only are pulses simple to cook, they are packed with protein and simple to throw into grain or veggie salads for more staying power.
Knowing that the lentils will cook at the same time as the wild rice, the hands-on time of this recipe is actually quite short. I love the versatility of green lentils in this mix – be sure not to overcook them so they stay firm in the grain salad. They are a great bite alongside the chewy wild rice and tangy simple dressing of lemon juice, olive oil and salt.

Spring Lentil and Wild Rice Salad
Author:
Marisa | Uproot Kitchen
Ingredients
1 cup dry green lentils (4 cups cooked)
1 cup dry wild rice (4 cups cooked)
4 small spring onions
1 bunch asparagus
1 bunch radishes
⅓ cup lemon juice (1 large juicy lemon)
2 tablespoons additional olive oil
¾ teaspoon salt
Fresh ground pepper, to taste
Instructions
Prep lentils: Bring the green lentils and 3 cups of water to a boil. Cover and simmer on low heat until cooked but still firm, about 20 to 25 minutes.
Prep rice: Bring the wild rice and 3 cups of water to a boil. Cover the pot and simmer on low heat for about 45 minutes, until all water is absorbed.
While the lentils and rice are cooking, dice the white and light green parts of the spring onions. Trim off the tough stalks of the asparagus and chop the stalks into 1-inch pieces.
In a sauté pan on medium heat, add in 3 tablespoons of olive oil, diced spring onions and chopped asparagus. Sauté for 5-8 minutes until the asparagus is bright green and slightly tender (time depends on the thickness of your asparagus stalks).
Halve your radishes and slice them thinly and set them into your serving bowl. Mix all other cooed ingredients into the bowl and top with lemon juice, 2 additional tablespoons olive oil, salt and pepper.
Serve warm, room temperature or cold.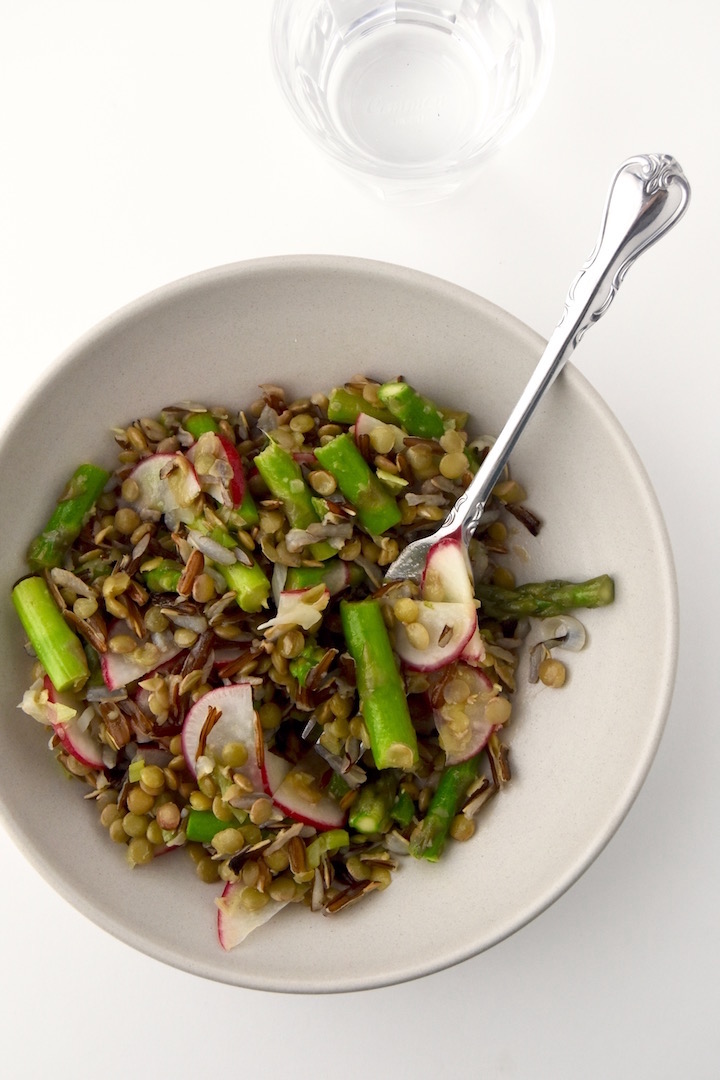 If you take a peek into my 
ingredient index
, you know you've got lots of pulse recipe options to choose from: I've done everything from
chickpeas in soup
to
beany chocolate cupcakes
 to
lentil nachos
. For me, these ingredients are not only satisfying, but they can take on so many different flavors while letting me
stick to my budget
 and relying on simply pulling something out of the pantry.
I hope you get around to trying this tasty spring salad – especially if you haven't gotten your hands on some fresh asparagus yet.
Enjoy + be well,
Marisa