These simple Pinto Bean Tostadas with Jalapeño Cashew Sauce are a fun summery meal that's packed with healthy ingredients that are easy to assemble.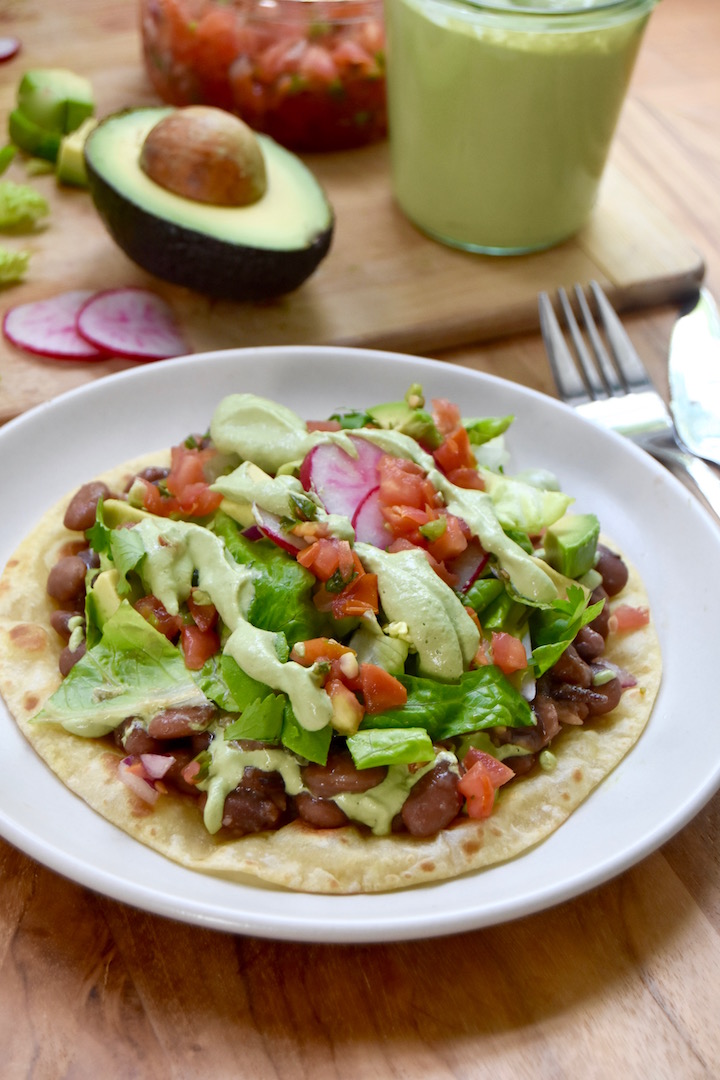 Disclosure: This post is sponsored by USA Pulses + Pulse Canada. I was compensated for my time, and all opinions are my own.
There is nothing tastier than cooking a pot of beans from scratch. I've shared some of my favorite homemade bean recipes with you all before, like my favorite bean dip and slow cooker refried beans. Today, I'm sharing a simple way to flavor home cooked pinto beans that are perfect in a flavorful tostada recipe in partnership with Pulses. You likely remember my Spring Lentil and Wild Rice Salad recipe I shared recently in partnership with them; pulses are dry peas, lentils, chickpeas and beans, and worth spreading the hype!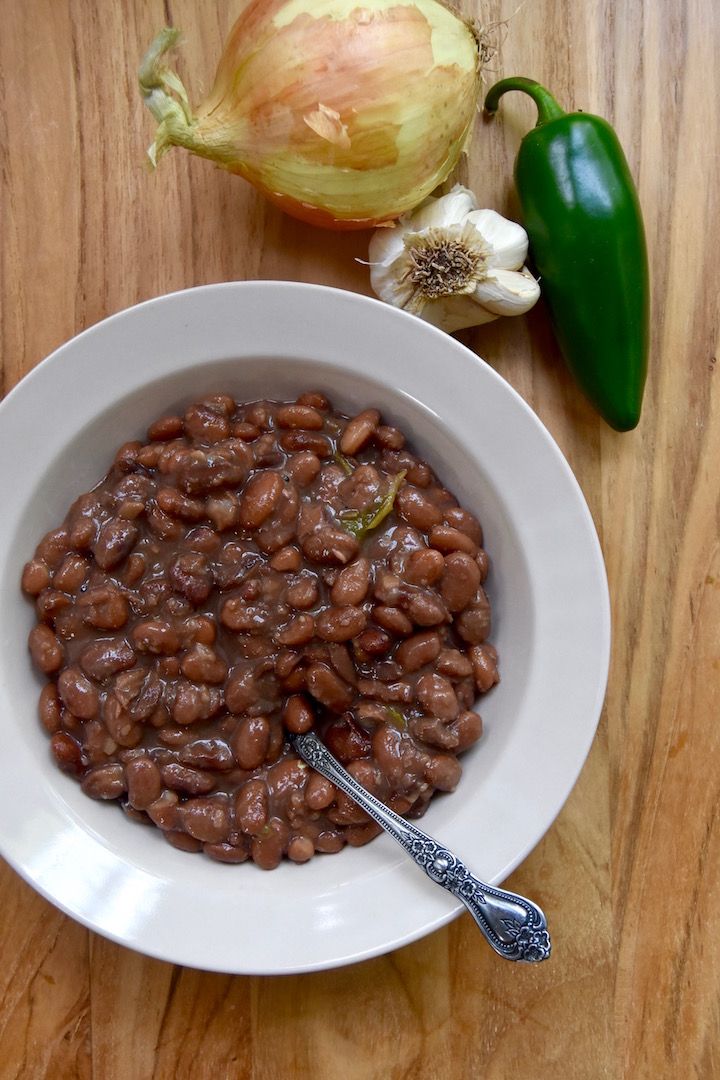 There is nothing I love more than a taco bar set up, and this recipe imitates that idea by giving you the base of flavorful, slightly spicy pinto beans and a fun jalapeño cashew sauce with a kick. The rest of the toppings are up to you – whether you like them piled high with chopped romaine, drizzled with salsa and avocado cubes, or sprinkled with cilantro and pico de gallo.
While this recipe takes some prep time, it's as simple as covering the beans and the cashews (separately) with water. This softens the beans so the cooking time is reduced, and helps create an extra silky cashew sauce. Win, win!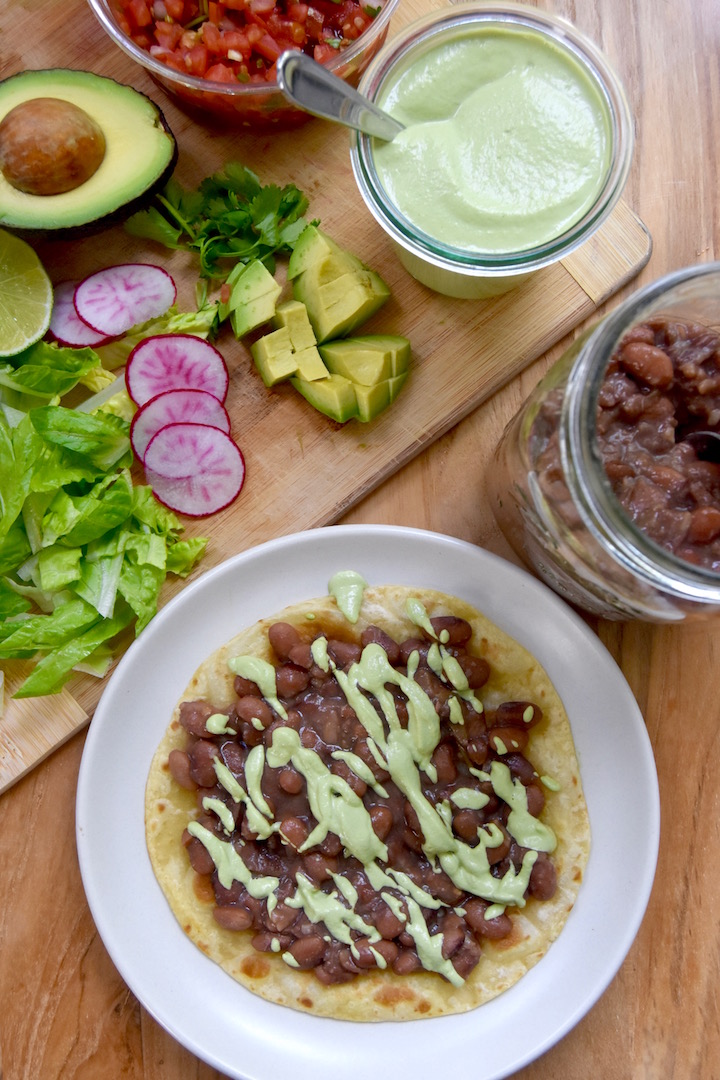 Bean Tostadas with Jalapeño Cashew Sauce
Author:
Marisa | Uproot Kitchen
Ingredients
Pinto Beans
1 pound dry pinto beans, soaked
6 cups filtered water
½ of a white onion
1 jalapeño, cut in half and deseeded
1 garlic clove, skin removed and smashed
½ teaspoon salt
Jalapeño Cashew Sauce
1 cup raw unsalted cashew pieces, soaked
½ cup water
1 jalapeño, cut in half, deseeded if desired
½ cup cilantro, packed
2 garlic cloves, skin removed
2 tablespoons lime juice
Salt to taste
Tostada Assembly
6-8 flour tortillas
Desired toppings: Chopped romaine lettuce, cubed avocado, fresh pico de gallo or salsa, cilantro
Instructions
Prep Ahead
First, the pinto beans need to be soaked to reduce cooking time. In a large pot, cover pinto beans with water and soak for 6-8 hours. Cover and let the pot sit on the stove (no heat). After 6-8 hours, rinse the beans and drain the water.
In addition, the cashews blend smoother if they are soaked. Cover them in water in a jar and refrigerate for 6-8 hours. Rinse and drain the cashews.
Pinto Beans
In a large pot, combine the soaked beans with filtered water, white onion, jalapeño and garlic for flavor.
Bring water to a simmer and simmer gently with lid tilted until desired tenderness is reached, about 45 minutes to 75 minutes. Stir occasionally and add water to cover the beans as needed.
When they are tender, add salt. Continue cooking the beans uncovered for 5-10 minutes, stirring frequently, to thicken the bean liquid. Remove the half of onion and discard. Do not drain liquid.
Jalapeño Cashew Sauce
In a blender, combine soaked cashews, water, half of the jalapeño, cilantro, garlic, lime juice and a pinch of salt. Blend until smooth.
Taste and add additional jalapeño to desired level of heat, and more salt to taste.
Tostada Assembly
When you are ready to enjoy a tostada, add 1 teaspoon of oil and 1 flour tortilla at a time to a pan over medium heat on the stove. Toast until puffy and getting crispy, and flip to repeat on the other side. Repeat for as many tortillas as you need.
Top the tostada with a few spoonfuls of warm pinto beans, a drizzle of the cashew sauce, and desired toppings (lettuce, avocado, pico de gallo, cilantro, etc).
Enjoy warm.
Notes
The heat of the cashew sauce will depend on the jalapeño - add it in slowly in pieces to control the spice.
The homemade pinto bean recipe will leave you with leftovers. Freeze extra beans and their sauce in 2 cup portions and use for taco or grain salads, burritos, quesadillas and enchiladas.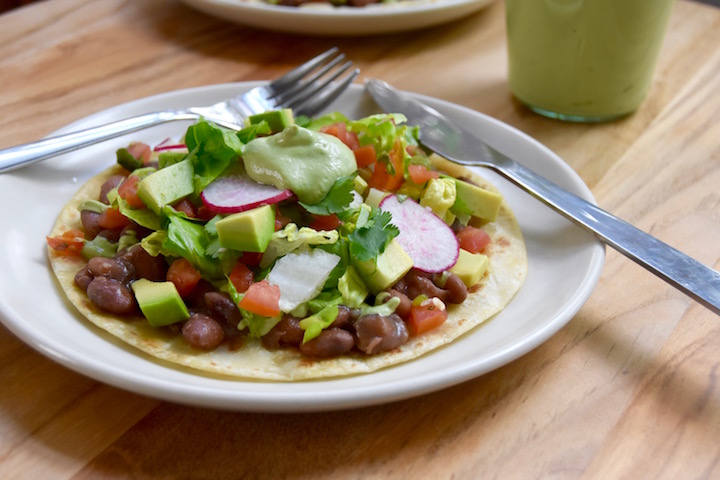 As noted in the recipe, there will likely be leftover beans. I do not find it worth cooking less than 1 pound of dry beans at a time. They're a cost effective and protein-packed pantry staple, and the leftovers (if frozen) will now leave you with home cooked beans on a moments' notice that can be used in other meals over the next 2 months.
Let me know if you try this recipe! Happy eating!
Be well,
Marisa