You might be wondering: What are garlic scapes?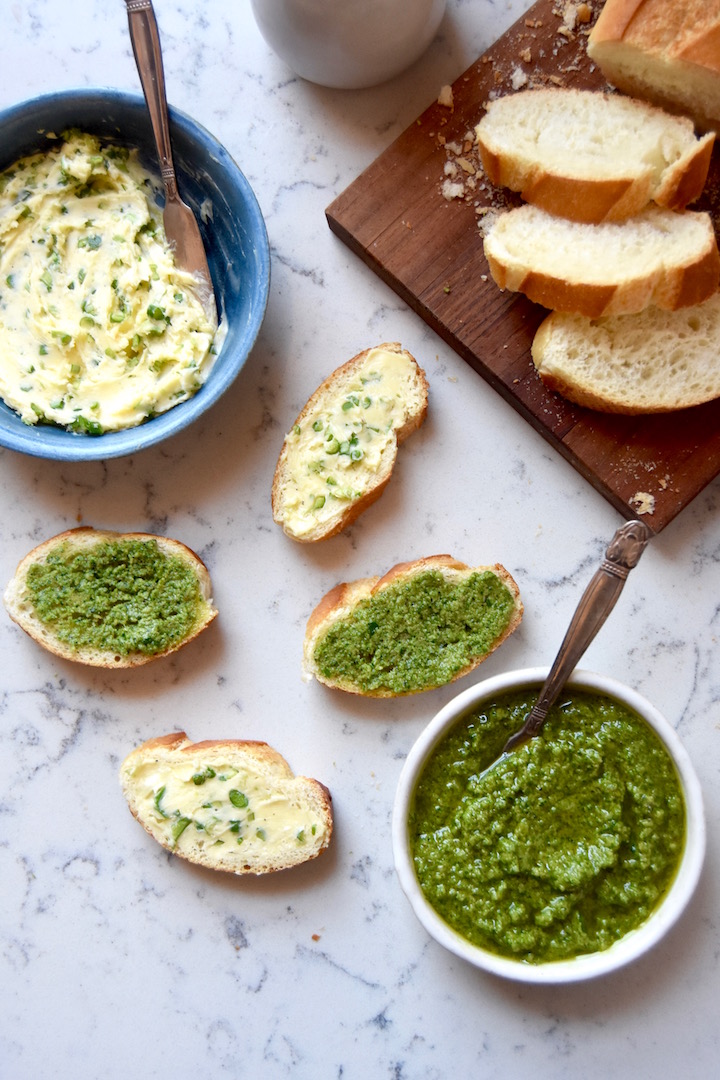 Garlic scapes are the stalks that grow out of the hardneck garlic plant and flower. In late spring and early summer, you can find them at farmers' markets (and more commonly, at grocery stores now too) when the farmers trim down the stalks to allow the garlic bulb to mature underground. They are long stems with a curl at the end where the flower bulb is, and you can find them sold in bunches of 5-10 depending on size. They are used similarly to garlic, and have a milder, sweeter taste to them.
If you're a fan of garlic and haven't tried garlic scapes yet, you're missing out! You might be able to catch the tail end of garlic scapes this season depending on where you live, since they are becoming more popular, or look out for them next year during late spring and early summer. You can use them raw, chopped up in recipes for garnish, or sauté in a pan and use like you would use garlic (I usually double the amount if I am cooking them in place of garlic).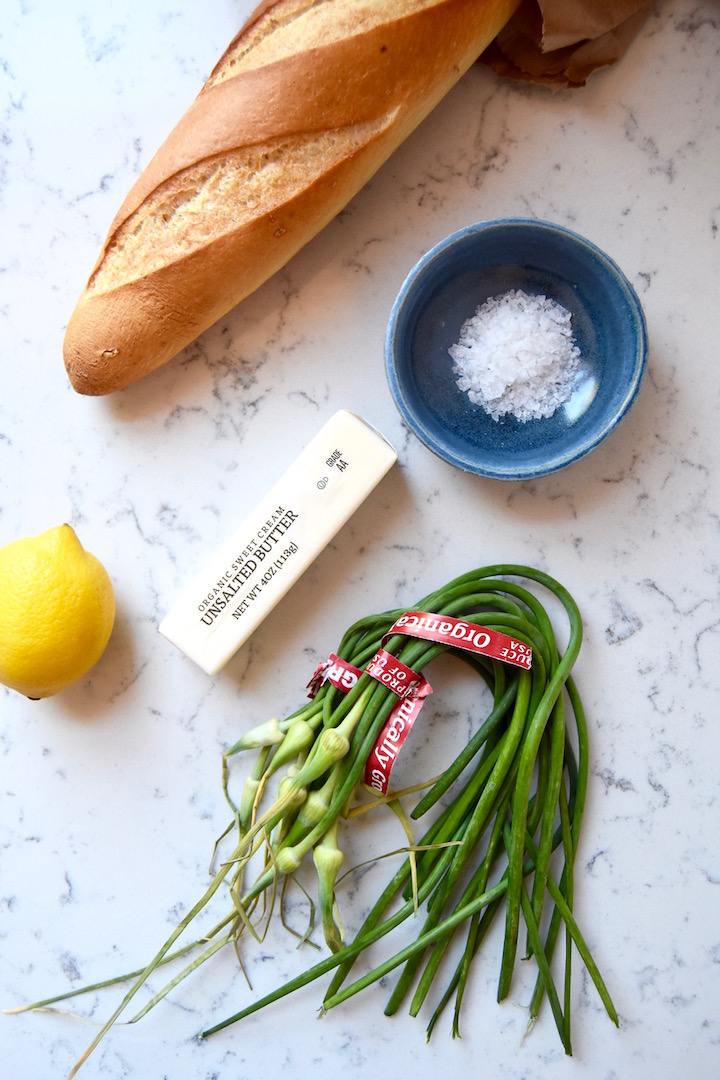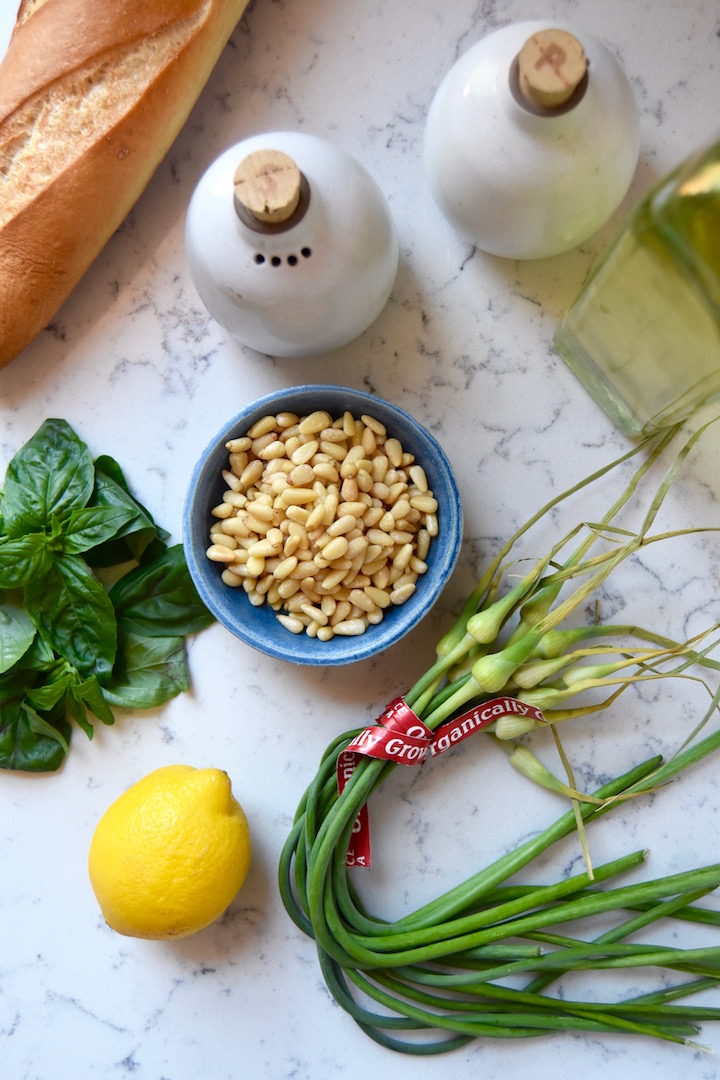 Since so many people ask me how to use garlic scapes, or how to cook with garlic scapes, I thought I would share my favorite 2 simple ways to use garlic scapes.
The first is an incredible Garlic Scape Compound Butter. Compound butter is basically just a softened butter with different flavors whipped into it. You can make it with a variety of herbs and seasonings (e.g. rosemary butter for steak) or sweet ingredients as well (e.g. maple butter for topping pancakes). With minced garlic scapes, some lemon juice, and salt and pepper, these flavors elevate the creaminess of butter for lots of uses. I like using it for:
spreading on a piece of baguette
using it to grease a pan to cook scrambled eggs
putting a dollop on pan seared steak
sautéing vegetables in it
whisking it into polenta or cooked rice for flavor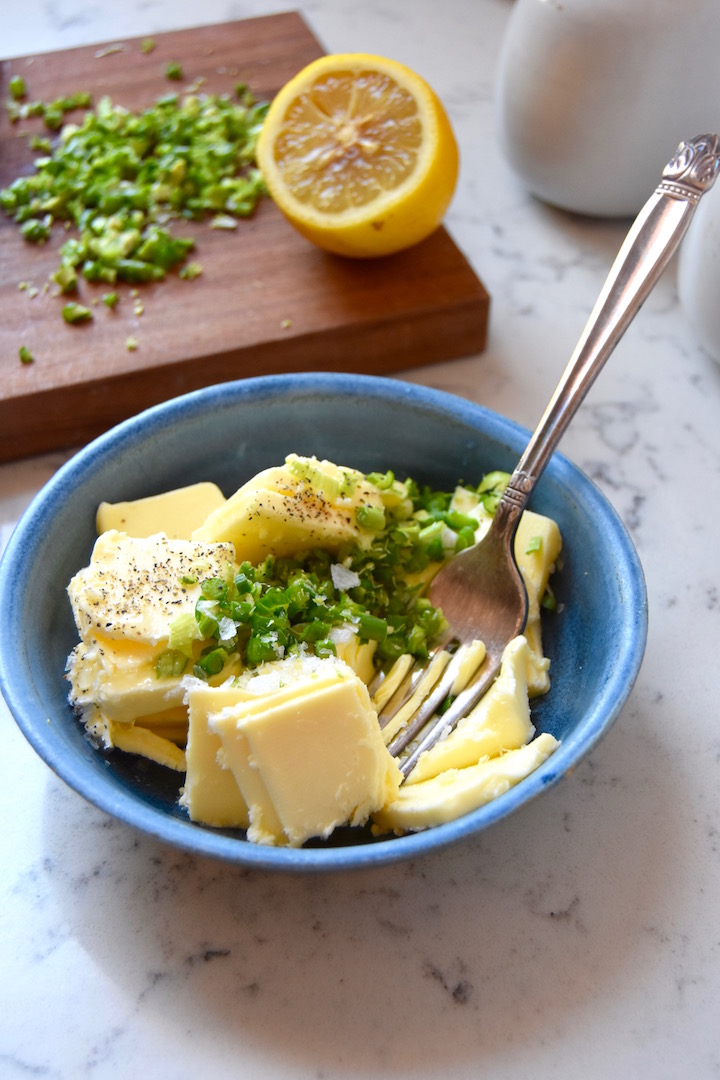 My second favorite use of this stalk is for Garlic Scape Pesto. We know pesto to be a mix of basil, pine nuts, olive oil, lemon juice and parmesan. In this version, I have omitted the cheese and substituted over half the basil with garlic scapes, for a flavorful and garlicky spread you can use in place of traditional pesto. I have used this garlic scape pesto for similar uses as above:
mixing into fresh pasta for a simple dinner
baking on top of chicken breast for garlic scape pesto chicken
spreading onto a piece of baguette with chopped tomatoes
stirring it with a little mayo to make garlic scape pesto aioli for burgers
using it as a sandwich spread for grilled cheese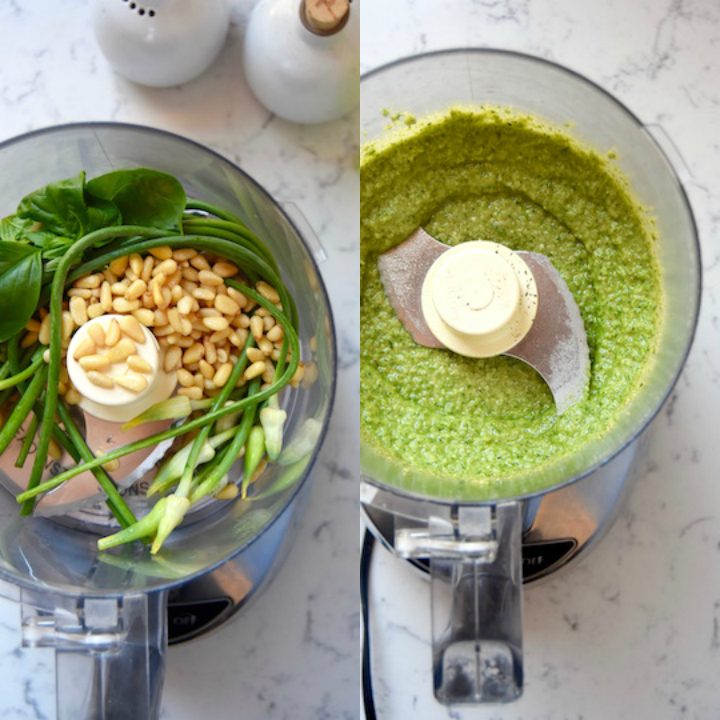 Both of these spreads are incredibly versatile and I recommend making the full batch, though you can halve these easily. I have written in the notes instructions for freezing if you make more than you can enjoy in a week or two – both freeze wonderfully.

Garlic Scapes 2 Ways
Author:
Marisa | Uproot Kitchen
Ingredients
Garlic Scape Compound Butter (makes 8-10 tablespoons)
3-4 garlic scapes, dried and tough ends trimmed
4 ounces unsalted butter, room temperature
½ tablespoon lemon juice
½ teaspoon sea salt
Fresh cracked pepper to taste
Garlic Scape Pesto (makes 8-12 ounces pesto)
1 bunch garlic scapes (~10 small stemmed scapes), dried and tough ends trimmed
½ cup basil, packed
½ cup raw pine nuts
½ cup extra virgin olive oil, more to preference
1 tablespoon lemon juice
¼ teaspoon salt
¼ teaspoon pepper
Instructions
Garlic Scape Compound Butter
Mince the garlic scapes.
In a small bowl, combine room temperature butter with the minced garlic scapes, lemon juice, sea salt and fresh pepper. Serve soft on fresh baguette bread.
To store leftovers, scrape the butter into a small container and refrigerate. Use the butter for sautéing, or bring it back to room temperature for future appetizers.
Garlic Scape Pesto
In a food processor or high speed blender, combine garlic scapes, basil, and pine nuts. Blend until a paste has formed.
Add the olive oil, lemon juice and salt and pepper. Blend until smooth and add additional olive oil if desired for a thinner pesto.
Store pesto in the fridge and use on fresh baguette bread, tossed with pasta, on roasted vegetables or grain bowls.
Notes
Both spreads will keep up to 10 days in the fridge, or up to 3 months in the freezer in an airtight container.
Do not substitute regular garlic for garlic scapes. You can substitute walnuts for pine nuts in the pesto.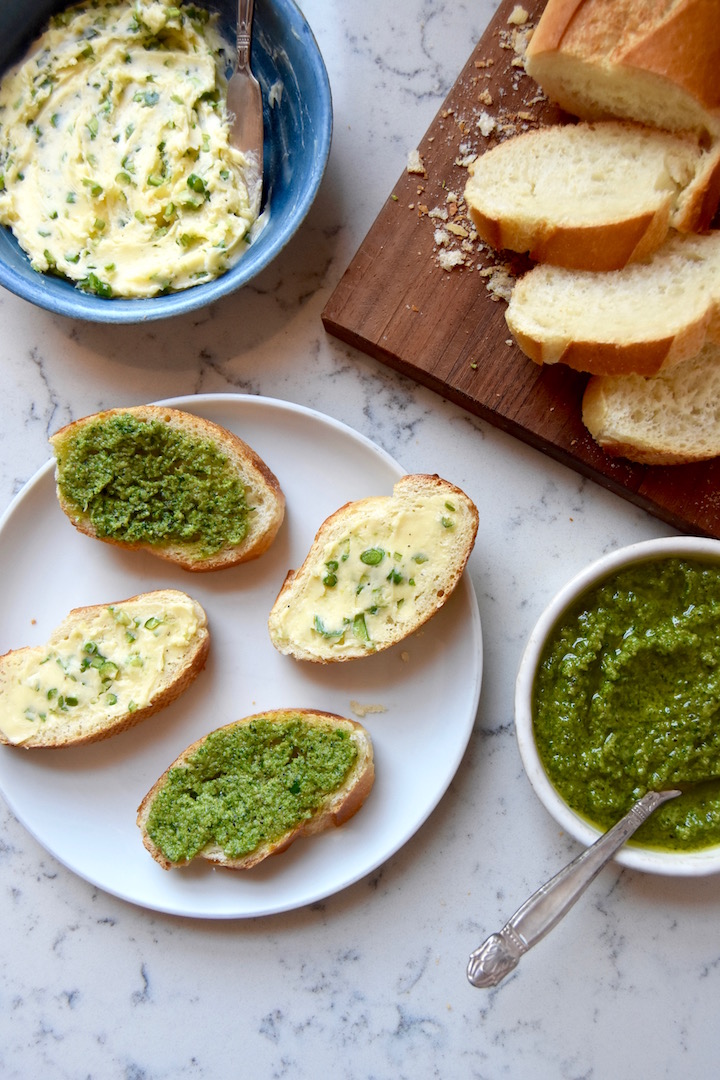 Also, if you follow me on social media, you might have known that I took a pottery class last spring in Berkeley before I moved back to Denver. The blue and white bowls in this post are from that class – I love having pieces that I've thrown myself. I highly recommend trying pottery if you are looking for a fun new hobby with a neat outcome!
Enjoy and be well,
Marisa