This Slow Cooker Short Rib Ragu with Polenta and Wilted Greens is a flavorful meal sure to impress, with its tender pieces of short rib in a rich homemade tomato sauce overtop creamy polenta.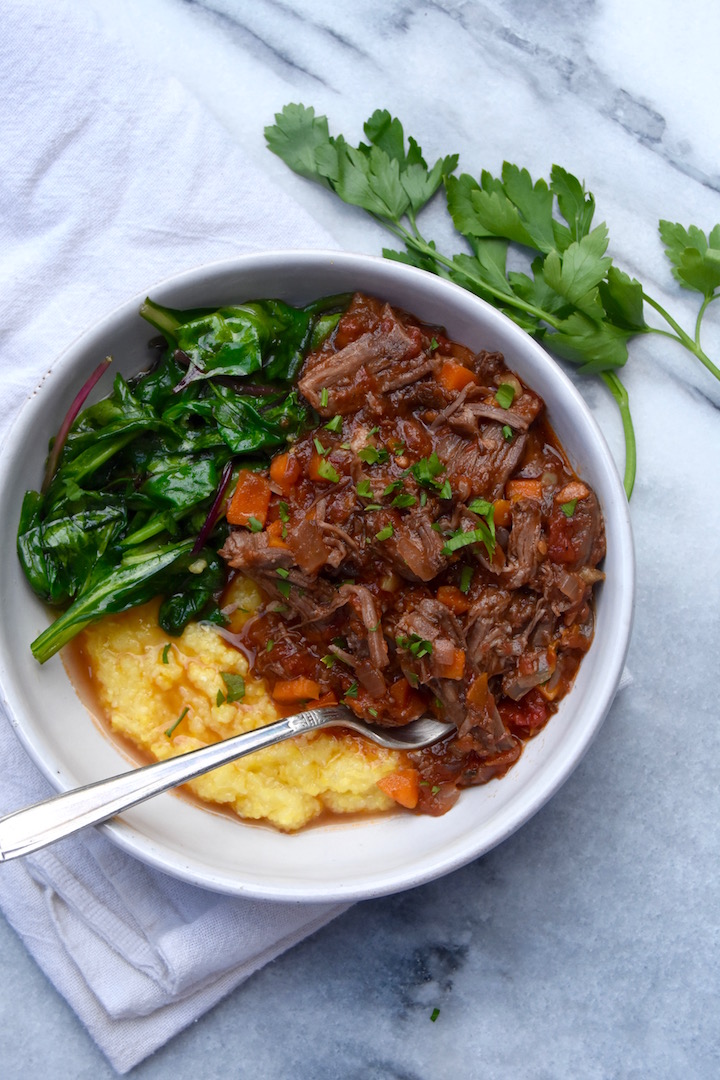 Disclosure: This post is sponsored by Sprouts + the Colorado Beef Council. I was compensated for my time, and all opinions are my own.
Truthfully, I have long been afraid of venturing out beyond ground beef and steak cuts of beef. While I love ordering short ribs at a restaurant, I have always felt intimidated to purchase them or try making them at home. This all changed when I tried making this slow cooker recipe after attending an event with Sprouts and the Colorado Beef Council where they gave us ideas and helpful beef-related cooking tips (and um, yes, some confidence).
Now, I am inspired again to go beyond my normal grocery shopping order and try out new cuts – or get advice from the people behind the meat counter, who are trained to help you figure out what you need and can give you cooking inspiration. I actually bought my short ribs I tested this recipe with in the packaged section of the grocery store (they were 4 per pack), but they helped me pick out the meatiest ones as some short ribs can contain more fat and thus less meat to contribute to our sauce. You can see the fat variation below: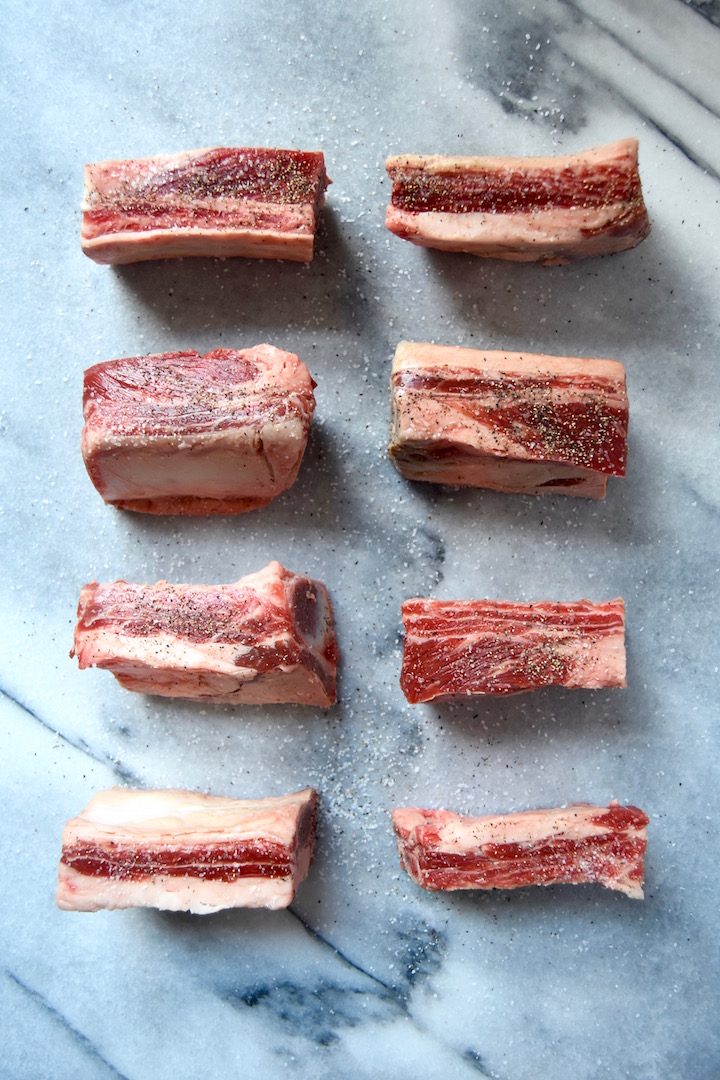 This Slow Cooker Short Rib Ragu with Polenta and Wilted Greens is the perfect dinner to serve when you have a bunch of people swinging over for dinner, or when you want to have a fancy-feeling meal with a friend and then have incredible freezer leftovers for another day. It's a ragu, because it's a meat-based sauce with a small amount of tomato – the richness comes from all the shredded short ribs. I added a bunch of veggies to the tomato sauce base you make with diced tomatoes and assorted dry herbs, and the wilted greens served on the side help lighten up this dish as well.
While I served this slow cooker short rib ragu over polenta for a late summery dish, you could just as easily toss this with some fresh pasta and parmesan or add a scoop overtop of a roasted vegetable and couscous mix in the colder months. If you have an overload of zucchini, some sautéed zucchini would go just as nicely as a side to this dish. Make it your own!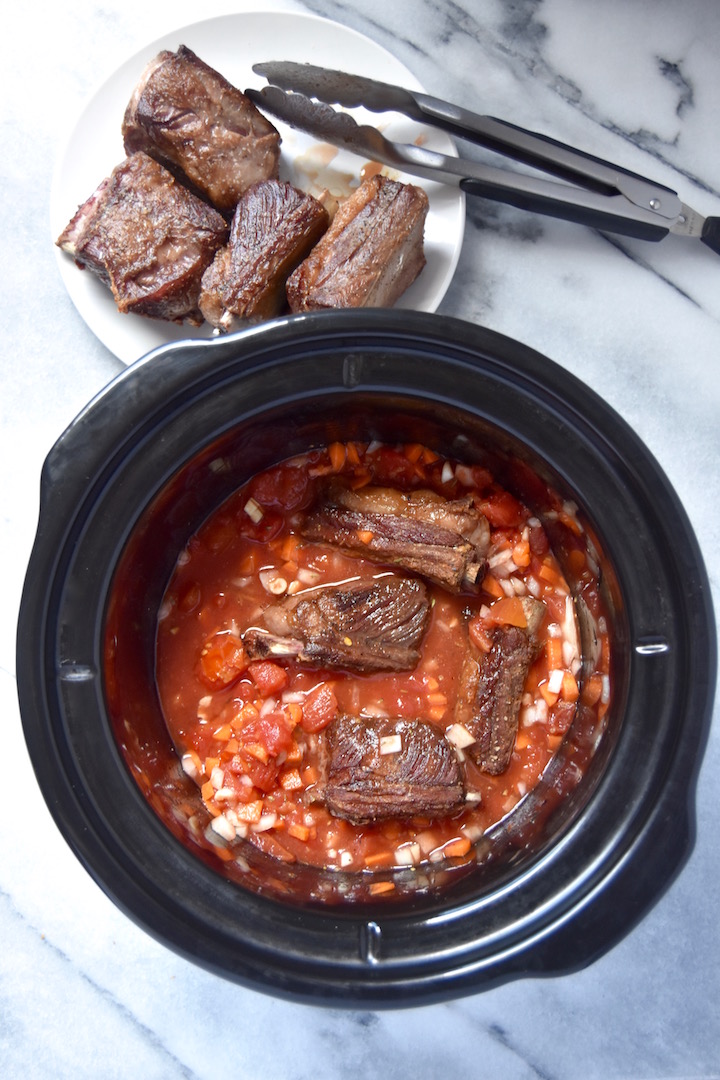 Slow Cooker Short Rib Ragu with Polenta and Wilted Greens
Author:
Marisa | Uproot Kitchen
Ingredients
Slow Cooker Short Rib Ragu
8 bone-in beef short ribs (~2.5-3 pounds)
1 small white onion
2 carrots
4 garlic cloves
2 14.5-ounce cans of diced tomatoes
1 teaspoon salt
½ teaspoon pepper
¼ teaspoon dry thyme
¼ teaspoon dry oregano
¼ teaspoon red pepper flakes
For Serving
1.5 cups dry polenta (corn grits)
4.5 cups water
½ teaspoon salt
8-10 cups baby greens of choice (spinach, kale, chard)
Fresh parsley for garnish
Instructions
Heat a cast iron pan on medium-high heat, oiled generously. Sprinkle salt and pepper over the short ribs and brown them in the hot pan on all sides for about 1-2 minutes per side. Do not crowd the pan and instead cook in batches if needed, setting the seared short ribs onto a plate.
In the meantime, mince the onion, carrots and garlic cloves.
In the base of a slow cooker turned on to high heat, combine the diced tomatoes, onion, carrots, garlic, salt, pepper, thyme, oregano and red pepper flakes. Stir well. Place the browned short ribs into the tomato mixture, submerging them as much as possible. You may have to wedge them on their side, or stand them up to fit them, depending on the size of your slow cooker.
Cover the slow cooker and cook for about 4 hours on high heat. You will know the short ribs are done when the meat easily falls off when you pull on a bone.
When the short ribs are close to ready to serve, combine polenta, water and salt in a pot. Bring it to a boil and then reduce it to a simmer, stirring for 3-4 minutes as it thickens. Turn the heat off and cover the pot for 5 minutes before serving.
In a small pan with some oil, quickly wilt the baby greens over medium heat. Stir continually until almost fully wilted and then remove them from the heat and add salt and pepper to taste.
Use a ladle to remove excess fat from the top layer of the slow cooker. Shred the short rib meat into the sauce. Remove the bones and any connective tissue that didn't break down.
Serve the short rib ragu over the polenta with wilted greens. Garnish with fresh parsley.
Notes
If you prefer to make this one day in advance, stop after step 4 and refrigerate the slow cooker insert. If you have especially fatty short ribs, this will make it easier to remove the excess fat - it will congeal on the surface.
Short rib ragu can be frozen up to 3 months.
Be well,
Marisa