After making this Mixed Berry Buckle, I will never go back to making cakes or pies in the summer again. This recipe is the perfect summer dessert to use up fresh berries that are in season.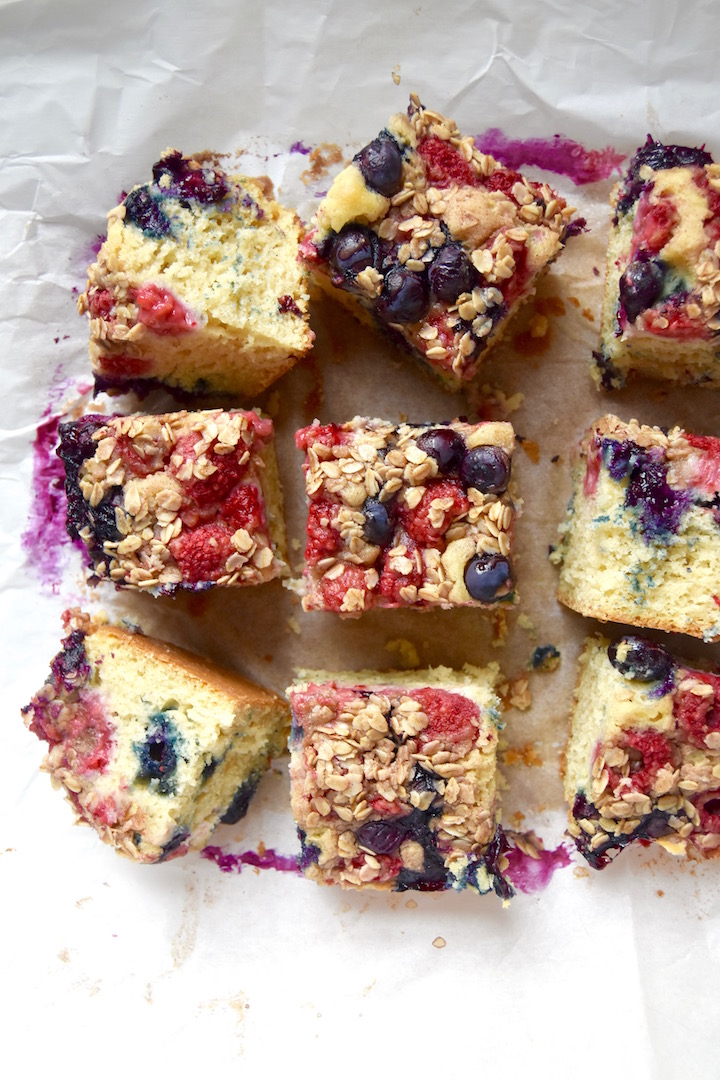 A buckle is a firm vanilla cake layer topped with your favorite berries, and then showered in a streusel crumble topping. Truly incredible mash up of all my favorite desserts: pie, fruit crisp, and vanilla cake (vanilla > chocolate always in my book, sorry not sorry).
Before the 4th of July, I ran across the buckle for the first time. We assembled the ingredients and used a mix of red and blue berries to top the buckle (see photo here). It baked up beautifully and we were all raving over the idea of a buckle.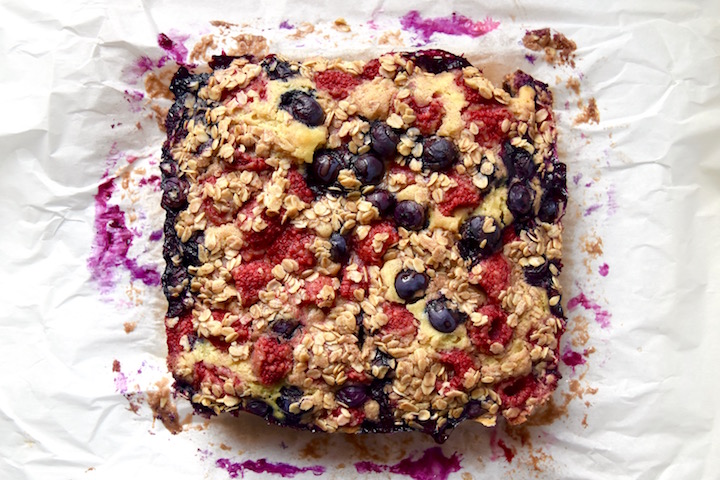 Since then, I've made some significant tweaks to the original recipe I found and and have made it over and over for any occasion where I want to be the person who brings the best summery dessert.
I wanted to share it with all of you so you can also have a go-to late summer dessert/snack cake situation in your back pocket. It's super quick to stir together, and then layer in a baking pan. Top it with your favorite vanilla ice cream or coconut whip for a swoon worthy dessert!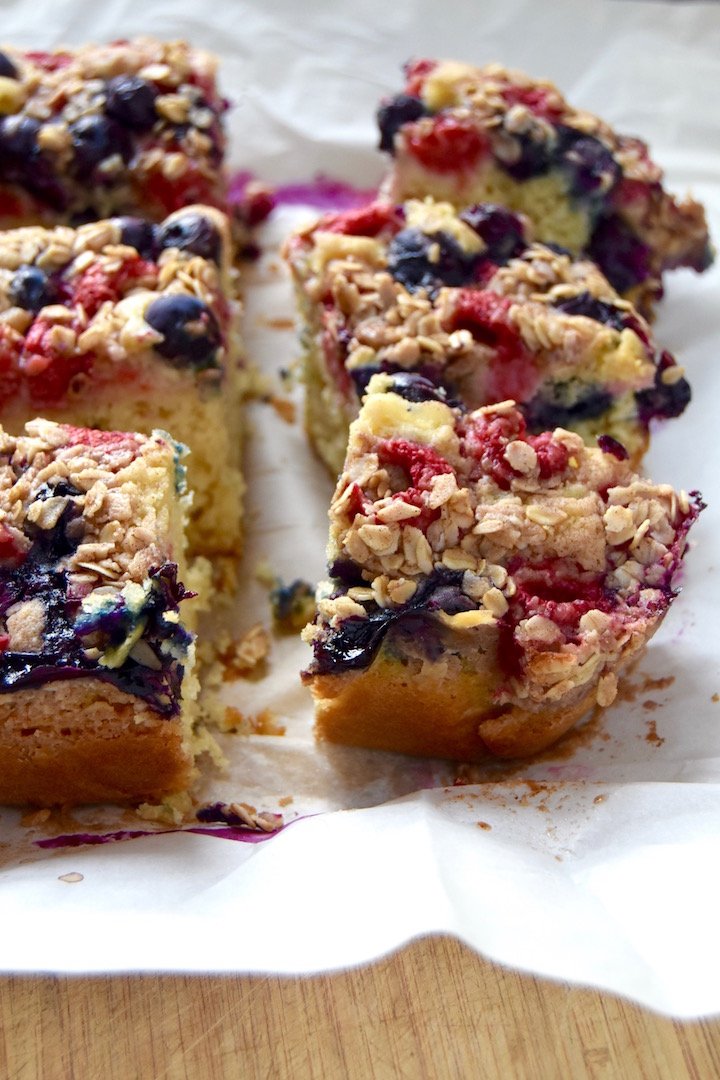 Mixed Berry Buckle
Author:
Marisa | Uproot Kitchen
Ingredients
Berry Buckle
¾ cup unsweetened milk of choice
⅓ cup neutral flavored oil (e.g. avocado, sunflower)
1 large egg
2 teaspoons lemon juice
2 teaspoons vanilla extract
1 and ½ scant cups all purpose flour (can substitute up to ½ cup whole wheat)
½ cup granulated sugar
½ teaspoon baking powder
½ teaspoon baking soda
½ teaspoon salt
2 and ½ cups mixed fresh berries, rinsed
Streusel Topping
¼ cup all purpose flour
¼ cup old fashioned oats
¼ cup butter or coconut oil
1 tablespoon granulated or brown sugar
½ teaspoon ground cinnamon
Instructions
Preheat the oven to 375 and grease a square baking dish or line it with parchment paper (8x8 or 9x9 both work).
In a mixing bowl, add milk, oil, egg, lemon juice and vanilla. Whisk to combine.
Add flour, sugar, baking powder, baking soda and salt overtop of the wet ingredients in the order written. Using a fork, stir together the dry ingredients on top and then incorporate them into the wet ingredients.
Add the batter to the baking dish, spreading it into an even layer. Pour berries overtop of the batter, pressing lightly overtop of them so they incorporate into the top of the batter.
Using a fork, mash together the streusel topping ingredients. Using your fingers, sprinkle it generously overtop of the buckle.
Bake the buckle for 40-45 minutes, until a knife comes out clean in the middle. Allow the buckle to cool for 30 minutes before slicing into 9 or 12 squares. Enjoy warm or at room temperature.
Notes
Leftover buckle can be covered and left on the counter for up to 3 days.
Any stone fruit can be substituted for the berries if pitted and cut into small pieces.
Recipe adapted from The Full Helping's Vegan Blueberry Buckle.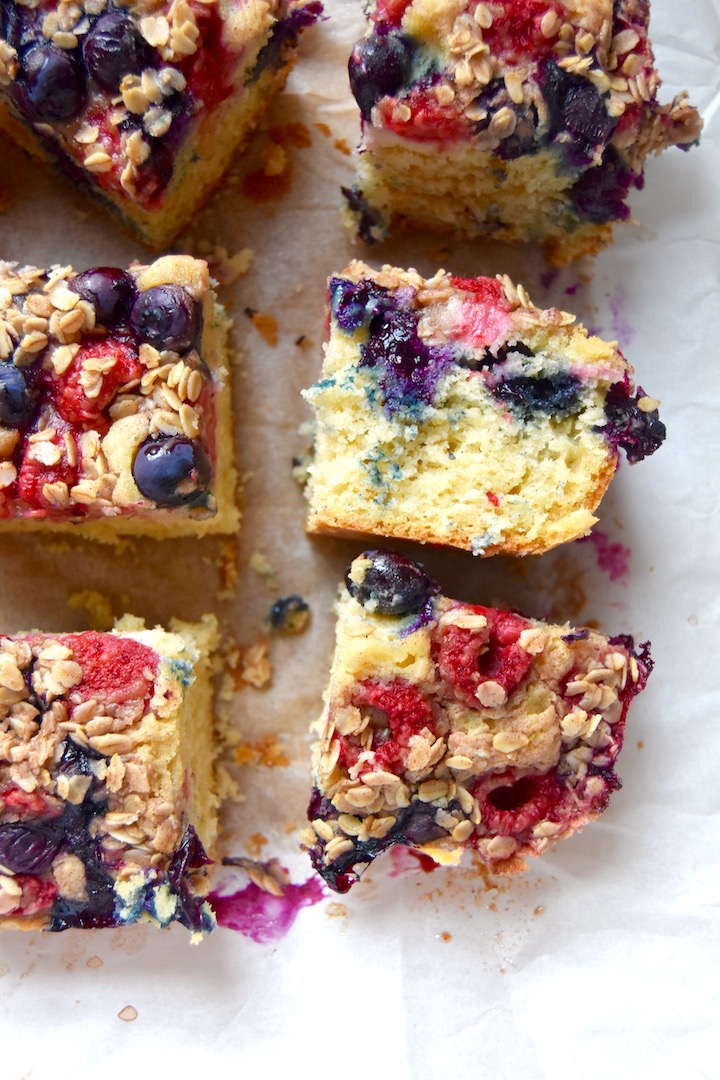 Let me know if you make this Mixed Berry Buckle! This has immediately gone to one of my favorite dessert recipes, and probably top 5 recipes of all time that I've shared on my site, so I hope you give it a try.
Be well,
Marisa