This maple-sweetened Whole Wheat Zucchini Bread is the perfect veggie-loaded spice cake for breakfasts, snacks or dessert.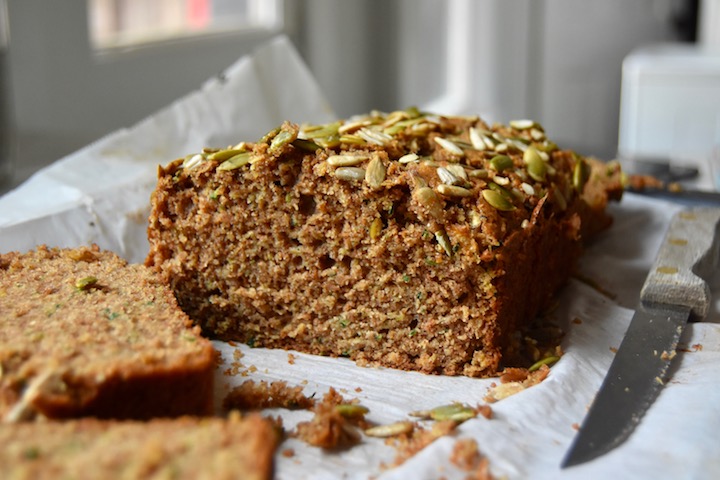 I am so happy to be finally sharing this recipe with you, after countless tests and flops. I set out earlier this summer to create a healthier option to my favorite zucchini bread, as they are usually loaded with oil and sweetener.
I wanted a loaf that I felt better about – a wholesome zucchini bread I could eat for breakfast, snack or dessert.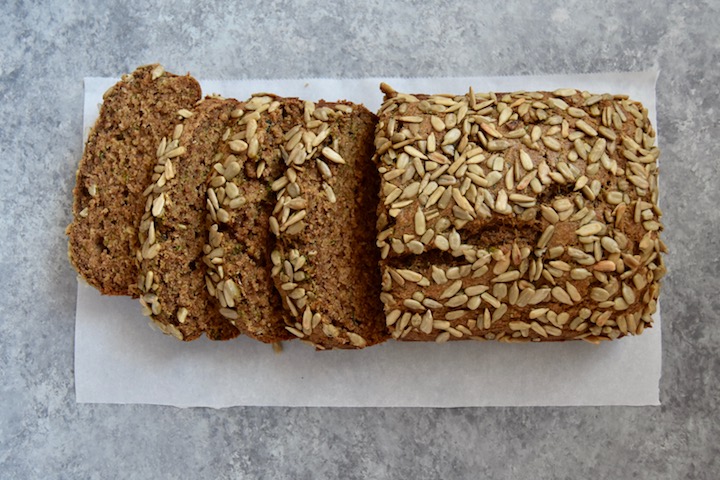 When my grandma on my dad's side was still alive, we would look forward to going to Ohio to her freezer stocked with cookies, treats, and zucchini bread. She would slice it thick and smear it with a bit of butter.
When my sister was young, she once misheard my grandma offer her some, and thought she said "bikini bread." Thus, to this day in my family, we call zucchini bread bikini bread and think back fondly on the love my grandma shared with us through her baked goods.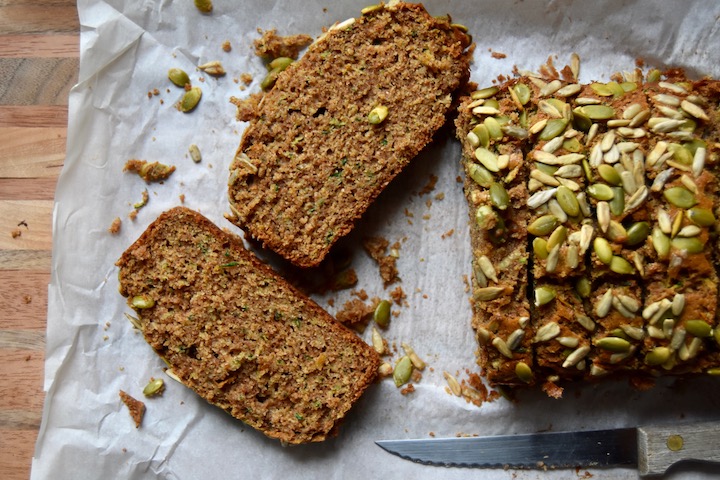 In this zucchini loaf, I used tons of shredded zucchini – this helps keep it extra moist. I use my food processor to shred the zucchini, but you can also use a box grater. For both options, be sure to squeeze out additional liquid from the zucchini. The zucchini helps create a tender crumb for the whole wheat flour mixture.
For sweetener, this bread mostly relies on maple sweetness – with a touch of brown sugar to add some distinctive molasses flavor.
Lastly, I couldn't help but sprinkle this whole wheat zucchini bread with seeds to bring some texture and crunch to the topping. This makes it a nut-free zucchini bread, but you could substitute this with chopped walnuts if you prefer. I like my zucchini bread without stuff inside, but chocolate chips or nuts could be added – I would recommend starting with a 1/2 cup total add-ins.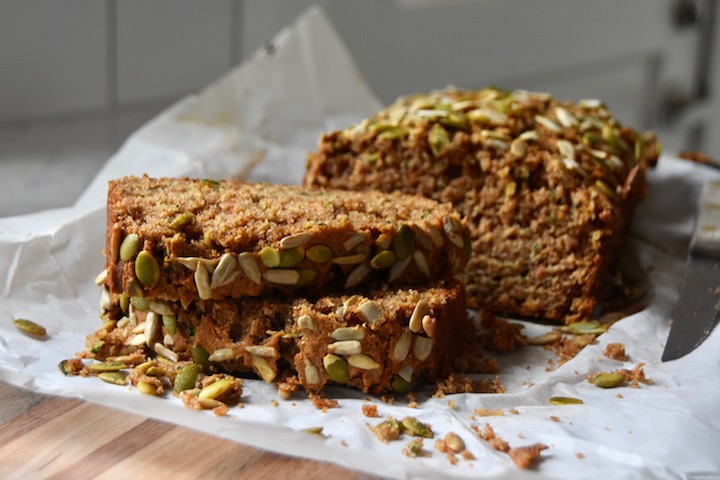 Whole Wheat Zucchini Bread
Author:
Marisa | Uproot Kitchen
Ingredients
2 large eggs, room temperature
½ cup maple syrup
¼ cup milk of choice, room temperature
2 tablespoons brown sugar
⅓ cup melted coconut oil or other neutral oil
1 teaspoon vanilla extract
1 and ½ cups grated zucchini (about 2 medium zucchini)
1 cup whole wheat flour
1 cup all purpose flour
1 and ½ teaspoons ground cinnamon
½ teaspoon ground ginger
Pinch of ground nutmeg
½ teaspoon baking soda
½ teaspoon baking powder
½ teaspoon salt
2 tablespoons raw unsalted sunflower seeds
2 tablespoons raw unsalted pumpkin seeds
Instructions
Preheat the oven to 350 degrees.
In a mixing bowl, combine room temperature wet ingredients: eggs, maple syrup, milk, and brown sugar. Mix in melted coconut oil and vanilla extract.
Using a box grater or food processor, grate zucchini. Place it in a kitchen towel and squeeze out excess water over the sink.
Stir zucchini into the wet ingredients.
Add whole wheat flour, all purpose flour, cinnamon, ginger, nutmeg, baking soda, baking powder and salt to the top of the wet ingredients. Stir everything together until just combined, scraping the sides to incorporate all the flour.
Line a loaf pan with parchment paper and scrape the batter into the pan. Sprinkle the top with sunflower and pumpkin seeds.
Bake the zucchini bread for 50 minutes, or until a knife comes out clean when poked in the center. Allow the bread to cool fully before slicing and enjoying.
Notes
It is essential that the ingredients be at room temperature or else your coconut oil will harden and seize up.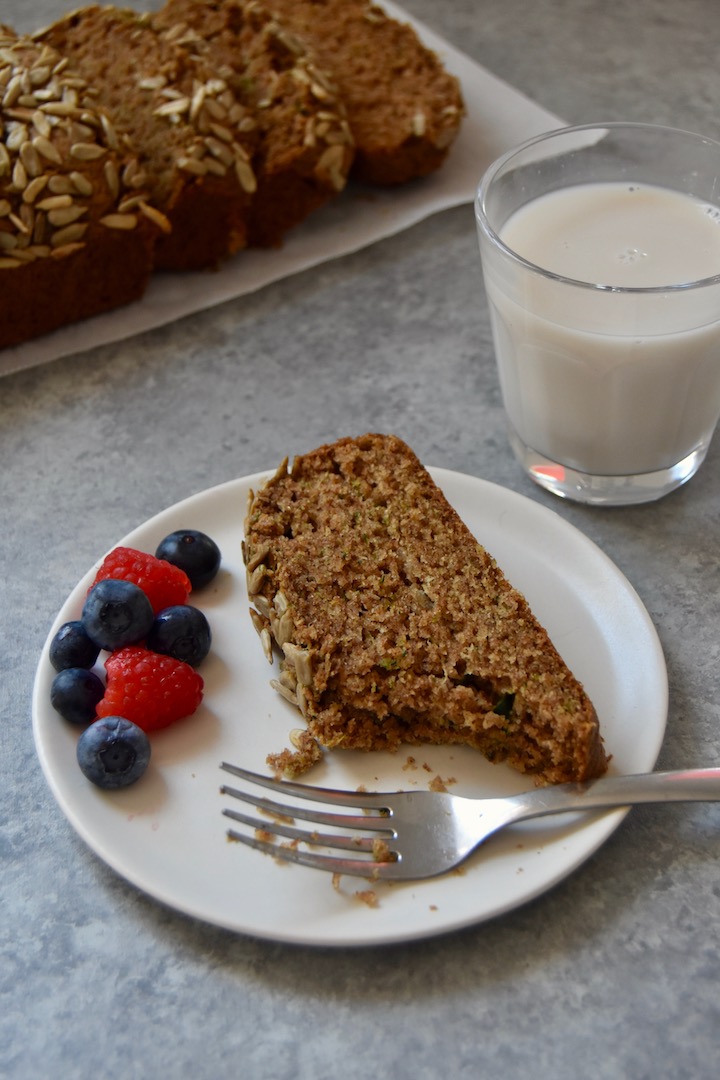 Be well and enjoy,
Marisa