This Roasted Garlic and Pumpkin Bean Dip is a healthy Halloween appetizer idea, perfect for enjoying with sliced veggies.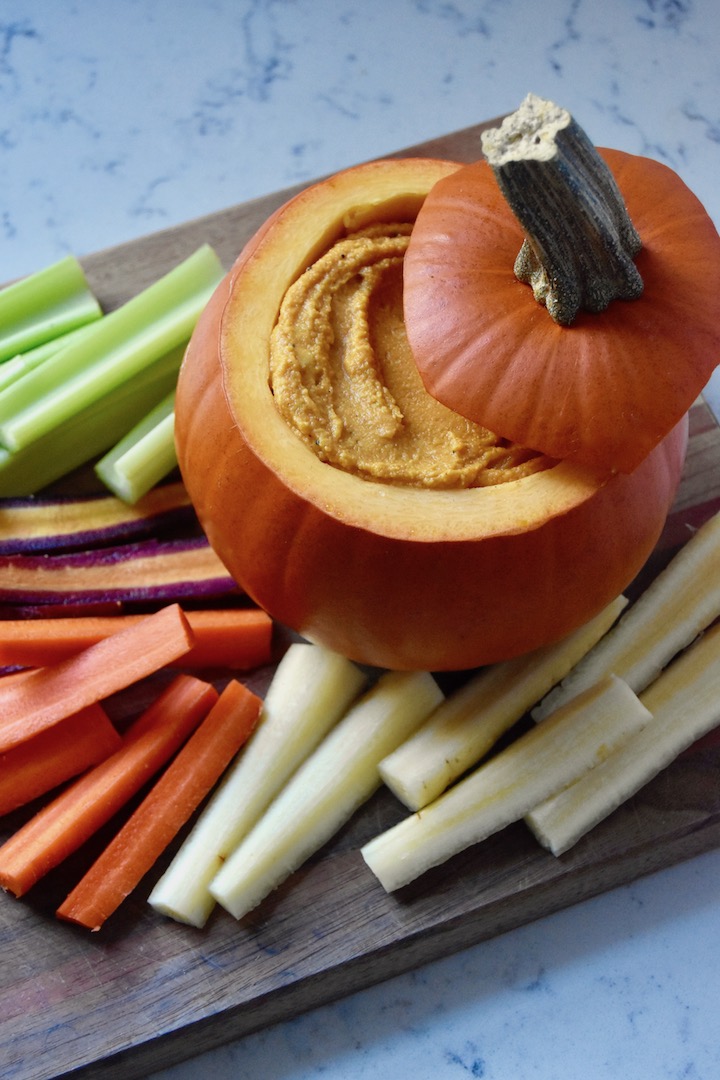 Disclosure: This post is sponsored by Sprouts. I was compensated for my time, and all opinions are my own.
I am a big fan of pumpkin puree, but sometimes I feel like we overemphasize sweet desserts this time of year. While I definitely have enjoyed my fair share of pumpkin bars, pumpkin blondies, and pumpkin apple ciders, I sought out to create a savory option for festive get togethers this month.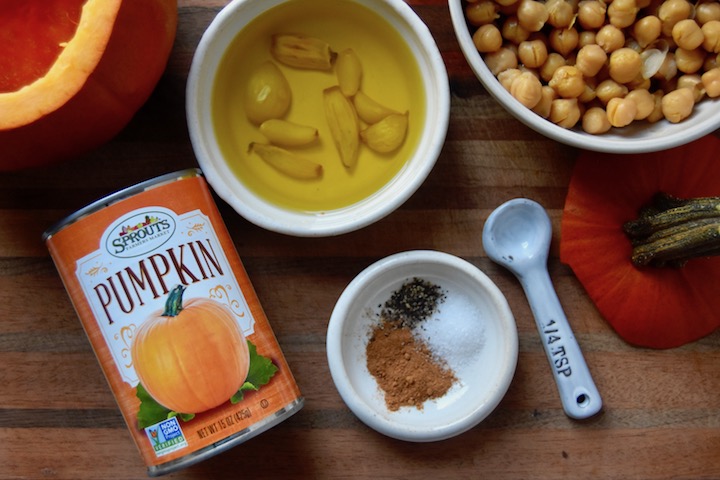 I used a new roasted garlic technique this time, which is hands on but faster than traditional roasting (you can absolutely substitute oven-roasted garlic with no issue though, too!).
By cooking the garlic cloves on the stovetop in oil, we get 2 products to use in our dip: the soft and milder roasted garlic cloves, and then a delicious garlic olive oil base to blend everything with.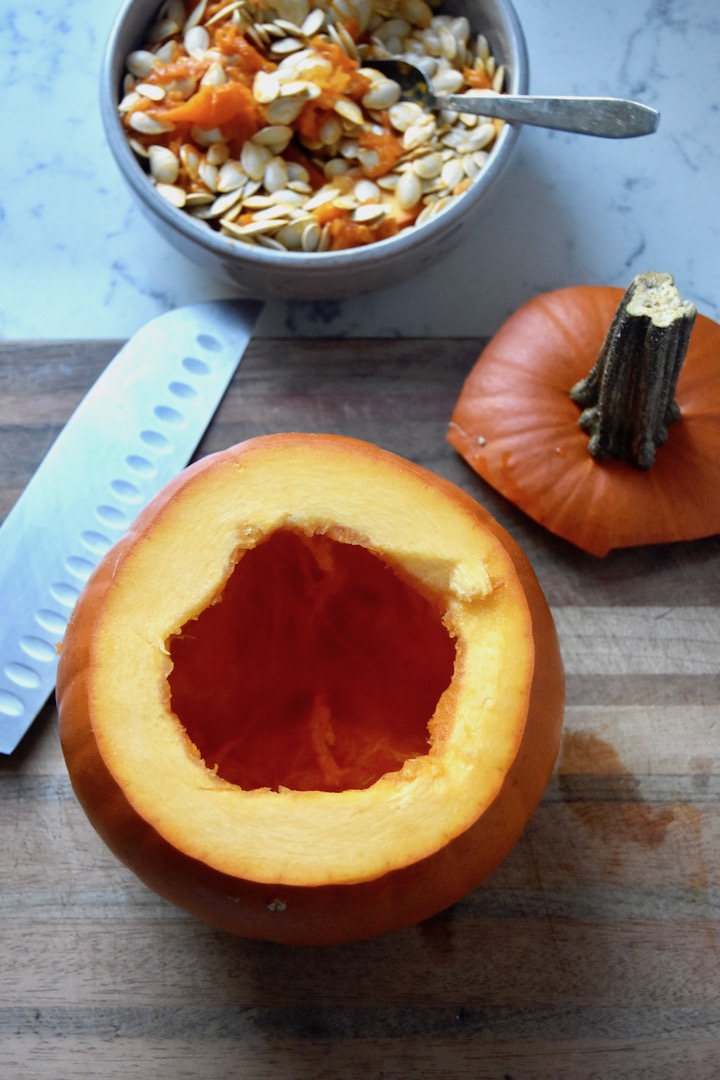 We take all those yummy ingredients alongside some white beans, canned pumpkin puree, and pumpkin pie spice, and whirr it together in a food processor or high powered blender.
But that's not it! By serving it in a pie pumpkin, it's a festive pumpkin bean dip your family and friends will love alongside your favorite Halloween treats.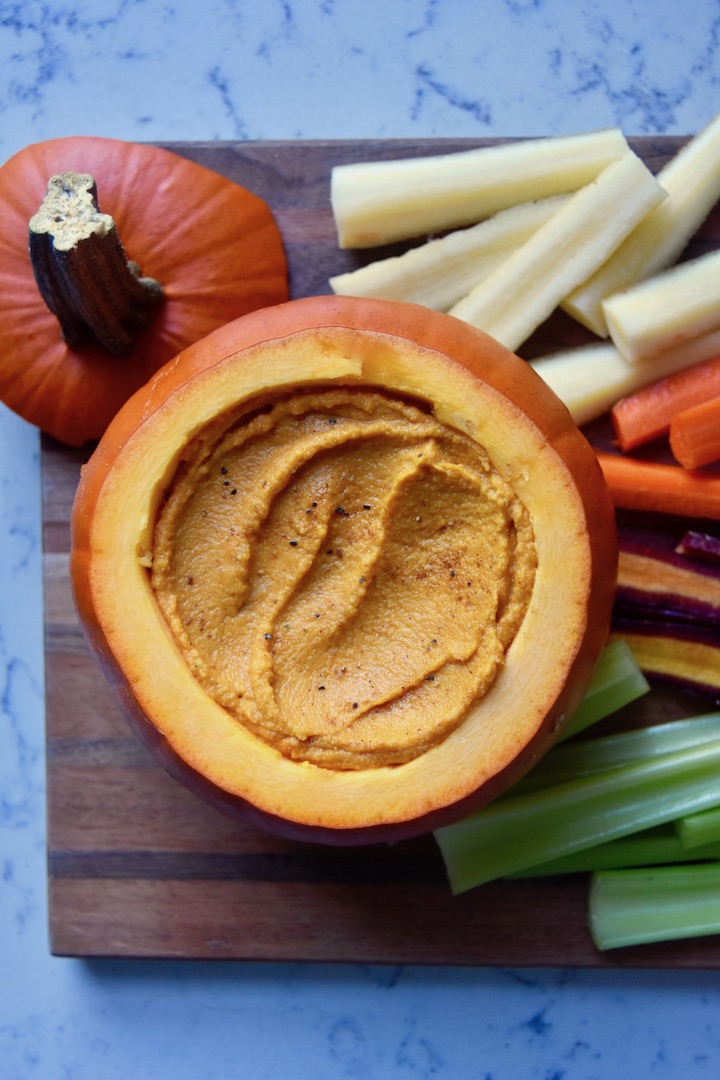 Roasted Garlic and Pumpkin Bean Dip
Author:
Marisa | Uproot Kitchen
Ingredients
6-8 garlic cloves, peeled
⅓ cup of olive oil
1 can of white beans (cannellini beans or garbanzo beans), drained and rinsed
⅓ cup of canned pumpkin puree
1 teaspoon pumpkin pie spice
¼ teaspoon sea salt
⅛ teaspoon pepper
For serving: 1 small pie pumpkin
For serving: Vegetables and crackers for dipping
Instructions
In a small saucepan on medium-low heat, add peeled garlic cloves and olive oil. The olive oil should cover the garlic cloves. Allow the garlic cloves to cook in the olive oil until the oil begins to bubble, and then turn down the heat a bit. Cook gently for 20-25 minutes until golden and soft when pierced with a fork. Allow the garlic and garlic olive oil to cool.
In a food processor, combine the garlic and olive oil and drained white beans. Process until smooth, scraping the sides of the food processor as necessary (about 1 minute).
Add pumpkin puree, pumpkin pie spice, and salt and pepper. Blend until very smooth, scraping the sides of the food processor as necessary (about 1 minute).
Taste and adjust as desired. For a thinner dip, you can add an additional splash of olive oil or water.
For serving: Rinse your pie pumpkin and dry it. Using a sharp serrated knife, cut off the crown of your pie pumpkin. Using a large spoon, scrape out the seeds and fiber from the middle of the pumpkin. Transfer your dip into the pie pumpkin and arrange it on a serving board alongside vegetables and crackers for dipping.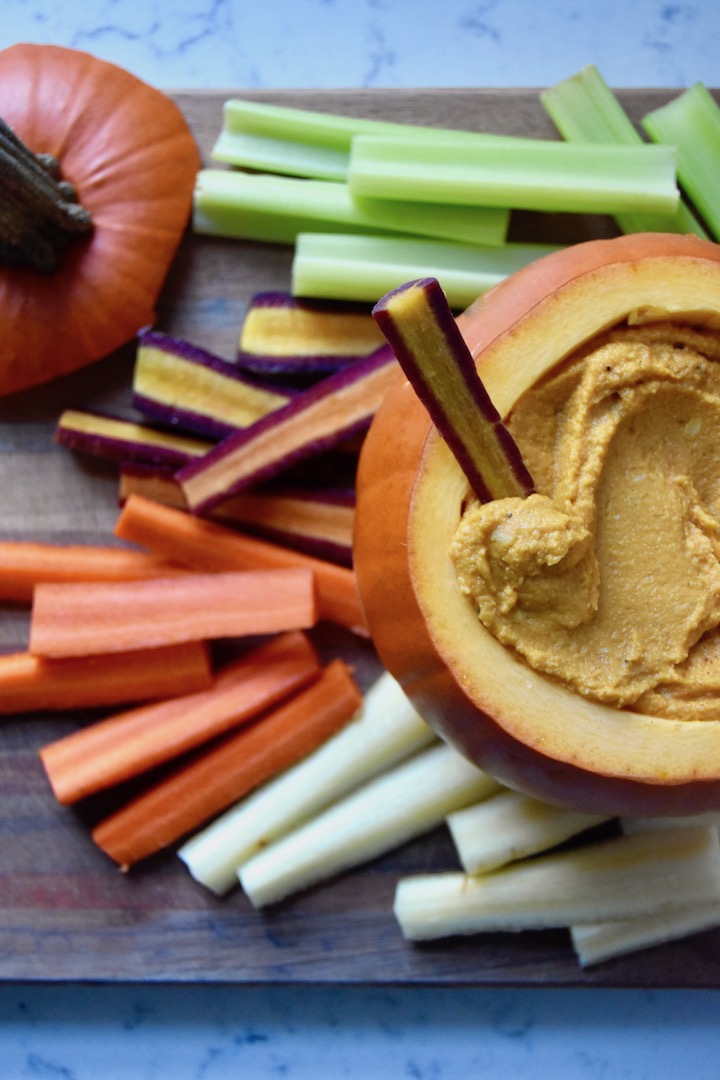 My last tip is to save the pie pumpkin after you've enjoyed this pumpkin bean dip – wash it out, chop it up, and roast it in the oven. You can either enjoy it with a meal, or simply blend it up with a splash of water for your own homemade pumpkin puree for another recipe.
Enjoy and be well,
Marisa