This One Pot Leek and Parmesan Fettuccine is a flavorful and creamy meal that highlights the mild flavor of leeks, and comes together in under 30 minutes for a delicious pasta dinner.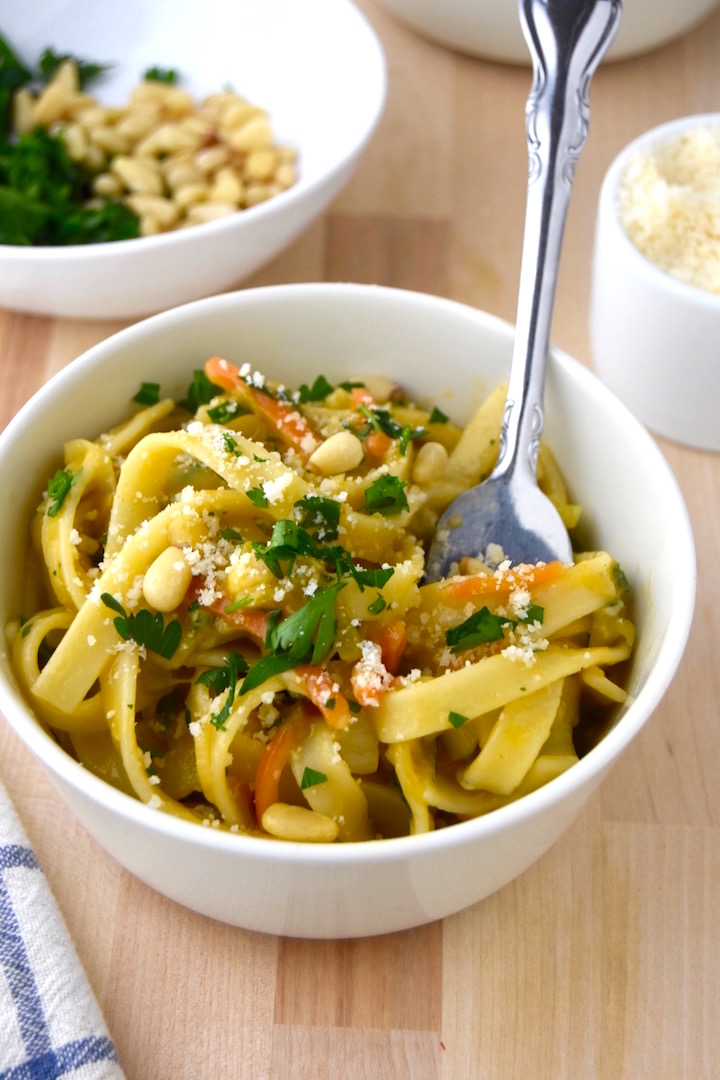 Leeks are a milder member of the onion family, and have a sweet and delicate flavor perfect for late winter and early spring.
Along with garlic and carrot, leeks create a delicious rich flavor perfectly paired with fettuccine pasta, Parmesan, lemon and parsley in this dish.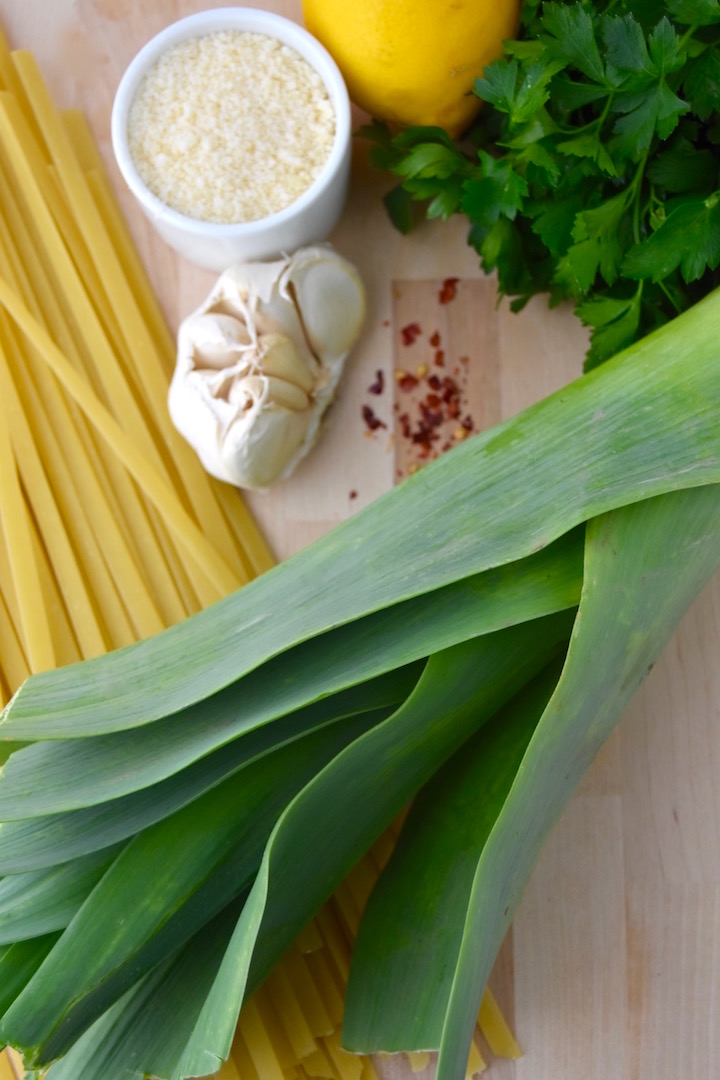 Not only is a one-pot recipe helpful for avoiding more dirty dishes, it also creates a more flavorful simple pasta dish.
Cooking pasta in vegetable broth and aromatic vegetables allows for a richer flavor, as the pasta absorbs the flavors and releases its starch to create the base for a creamy sauce.
While the dish cooks, the leeks melt into the mixture, and then a generous sprinkling of Parmesan at the end creates a silky sauce that coats all the noodles. A squeeze of lemon juice, some pine nuts and handful of parsley brightens up this cozy pasta dish perfectly.

One Pot Leek and Parmesan Fettuccine Pasta
Author:
Marisa | Uproot Kitchen
Ingredients
1 leek, white and light green parts
3 garlic cloves, minced
2 tablespoons olive oil
¾ cup shredded carrot
Pinch of red pepper flakes
8 ounces fettuccine pasta, broken in half
2½ cups vegetable broth
1 ounce grated Parmesan cheese (about ¼ cup)
¼ cup fresh chopped parsley
2 tablespoons pine nuts
1 tablespoon lemon juice, more to taste
Salt and pepper, to taste
Instructions
Cut off the end and the dark green leaves of the leek bulb, and then slice in half lengthwise. Rinse well under running water to clean, and then slice thinly into half moons.
In a pot on medium-high heat, combine olive oil and sliced leeks. Sauté for a few minutes and then add in the shredded carrot, minced garlic and red pepper flakes, stirring to coat everything in oil.
Add in the fettuccine pasta, broken in half, and the vegetable broth. Bring the mixture to a boil, stir well to ensure noodles are mostly submerged in the liquid and not sticking to each other.
Reduce the heat to low, and cover the pot. Cook for 10-11 minutes. If there is additional broth remaining in the bottom of the pot, cook uncovered for an additional 1-2 minutes. Check pasta for doneness, and turn off the heat once al dente.
Stir in Parmesan cheese, chopped parsley and lemon juice until the cheese coats the pasta. Season to taste with salt and pepper. Serve immediately with pine nuts, extra Parmesan and parsley as topping.
Notes
Leeks grow in sandy soil and the layers must be washed well to avoid grit. Be sure to rinse them well by opening up the layers of the leek after slicing the bulb in half lengthwise.
Do not reduce the oil in this recipe. Noodles will stick together or stick to the bottom of the pot if not enough oil is used.
While your one-pot pasta dish is cooking, toss together a simple salad of fresh greens with olive oil and vinegar. It's a simple side that compliments the rich flavor of the fettuccine pasta.
Love one pot dinners? Check out my One Pot Broccolini Pasta with Sausage and White Beans or my Mexican Veggie Quinoa Bake!
Enjoy and be well,
Marisa